Personal Injury Lawyer/Attorney
primarily serving Antioch, Pittsburg, Brentwood, Oakley, Concord and Bay Area CA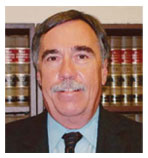 Personal Injury Attorney/Lawyer Mark A. McLaughlin is the premier personal injury lawyer in the Antioch, Pittsburg, and Brentwood area. Mark A. McLaughlin has over 30 years of experience. Please contact our office today to discuss your personal injury case. Personal Injury Attorney/Lawyer Mark A. McLaughlin handles all types of cases. We take every personal injury case on a contingency basis meaning that you don't have to pay any attorney's fees unless we acquire your compensation. If you have any questions, please do not hesitate to contact us or call us at (925)-754-2622. We love answering questions for our clients.

Let's face it, mishaps and mistakes are fairly common, but that does not mean you or your loved ones do not deserve compensation for the pain and suffering that can result when an accident or injury occurs. "Personal injury" cases are legal disputes between one person suffering harm from an accident or injury and a person legally responsible for that harm. Most personal injury cases may be resolved through informal settlements before any formalized lawsuit is filed. A settlement is a negotiation between both parties, followed by a written agreement in which both sides forgo any further action. A formal lawsuit typically begins when an individual (plaintiff) files a civil complaint against another person, business, corporation, or government agency (defendant), alleging that they acted carelessly or irresponsibly in connection with an accident or injury that caused harm.

In a personal injury case, the plaintiff has a limited time to file a lawsuit, called a statute of limitations. Generally, the statute of limitations begins when the plaintiff is injured or discovers the injury. The statutes of limitations are established by state law and vary by the type of injury. In most cases, it varies from state to state. Any potential personal injury case requires a detailed understanding of the facts, the processes, and local & state law. If you or a loved one was involved in an accident and it has negatively impacted your life, please consult with personal injury lawyer Mark A. McLaughlin, an experienced attorney to see if you should pursue a lawsuit.


We represent clients in a broad range of Personal Injury accidents, including:
Dog Bite Accidents
Slip and Fall Accidents
Premises Accidents
Trip-and-Fall Accidents
Car Accidents
Truck Accidents
Motorcycle Accidents
Construction Accidents
Bicycle Accidents
Wrongful Death
AUTO ACCIDENTS
Car accidents are terrifying experiences. Often, minor and major damages occur to the automobiles and to the persons involved. Mark can determine who is at fault and which party needs to pay the doctors' & mechanics' bills. Car accident law is a combination of traffic and personal injury law. State laws vary widely on the extent and types of insurance required to drive a vehicle, which means determining who pays for the damage after an accident can be complicated. Personal injury lawyer Mark A. McLaughlin will help sort through all the information (type of collision, auto insurance policies, etc.) and make sure that all legal action that follows after the accident goes as smoothly as possible. CLICK FOR AUTO ACCIDENTS
PREMISES ACCIDENTS
Premises liability is the liability for a landowner for certain civil wrongs that occur on their property. Examples of premises liability are injuries caused by a variety of hazardous conditions, including uneven pavement, standing water, crumbling curbs, wet floors, un-cleared snow, etc. As a property owner (or non-owner resident), you are responsible for maintaining a relatively safe property. Liability is determined by state laws in which the injury occurred. In some states, the court will focus on the status of the injured visitor in determining liability. In other states, the focus will be on the condition of the property and the activities of both the owner and visitor... CLICK FOR PREMISES ACCIDENTS
CONSTRUCTION ACCIDENTS
There are many dangers of your work site even if you are a safe and responsible worker. Construction sites are by nature dangerous, but that doesn't clear your supervisors from their responsibility to keep employees safe. Personal injury lawyer like Mark A. McLaughlin will help you navigate CA's workers' compensation system or pursue a legal claim on your behalf... CLICK FOR CONSTRUCTION ACCIDENTS
DOG BITTES
If you've been attacked and injured by a dangerous dog, contact a personal injury lawyer as soon as possible. In California, a dog owner is liable to a person bitten by their dog, regardless of the dog's former viciousness. Â California's dog bite statute applies to dog injuries that occur in public places and private property... CLICK FOR DOG BITTES
Call Mark A. McLaughlin at (925)-754-2622 for today- Free Initial Consultation
Law Offices of Mark A. McLaughlin
Law Offices of Mark A. McLaughlin
5109 Lone Tree Way, Suite B
Antioch, CA 94531, USA
TEL:
925.754.2622
FAX:
9257541104
E-MAIL:
nmclaug226@sbcglobal.net
PRIMARY PRACTICE AREA
For over 30 years, our law office has successfully defended Personal Injury cases in Northern California. Our firm's representation includes a full range of Personal Injury related to matters such as Car Accidents, Truck Accidents, and Motorcycle Accidents. Our clients mainly come from Pittsburg, Antioch, Brentwood, and Oakley. When you choose us, we will get started right away. Contact us now by calling (925)-754-2622
RELATED SEARCHES
Personal Injury lawyer Pittsburg CA | Personal Injury lawyer Brentwood CA | Personal Injury lawyer Concord CA | Personal Injury lawyer Oakland CA | Personal Injury lawyer San Francisco CA | Personal Dog Bite / Accident Injury lawyer Antioch | Antioch Slip and Fall / Trip-and-Fall Accidents lawyer | Personal Dog Bite / Accident Injury lawyer Pittsburg | Pittsburg Slip and Fall / Trip-and-Fall Accidents lawyer | Personal Dog Bite / Accident Injury lawyer Brentwood | Brentwood Slip and Fall / Trip-and-Fall Accidents lawyer | Personal Dog Bite/Accident Injury lawyer Concord | Concord Slip and Fall / Trip-and-Fall Accidents lawyerwyer